The hotel
Mummy Bamboo House is set back from the popular North Cliff at Varkala, which is a minute's walk away. The hotel offers good accommodation – and food - at reasonable prices. It is also quiet.
The hotel has been built in the traditional Keralan manner and has seven comfortable en suite double bedrooms, four of which are at ground level and three are upstairs, each with its own balcony and hammock.
There is a small garden in front of the hotel, where guests may sit and enjoy a cup of tea or have their lunch, if they do not wish to take it on the balcony of their own room.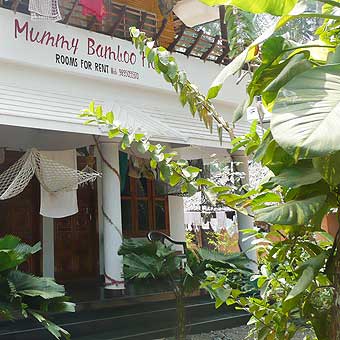 FREE RICKSHAW SERVICE
A free rickshaw service, from the station, is available to guests who have already made a reservation in advance with Mummy Bamboo House.
Just telephone
9895055370
or
9995327899
and a rickshaw will
collect you.
If you have made a reservation with MBH and do not take advantage of this free service, please carry a copy of your reservation with you.Thank you.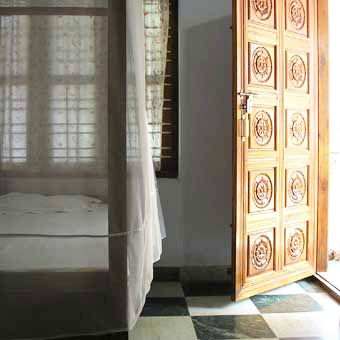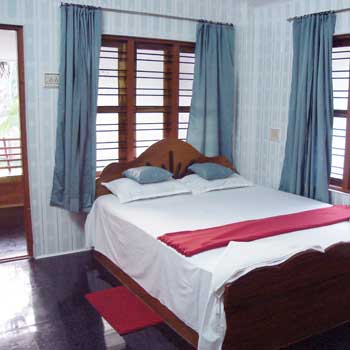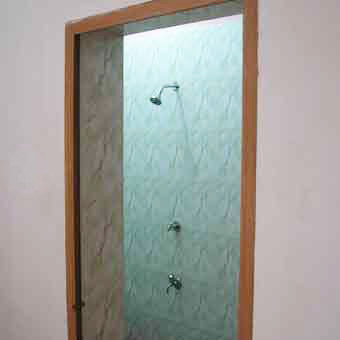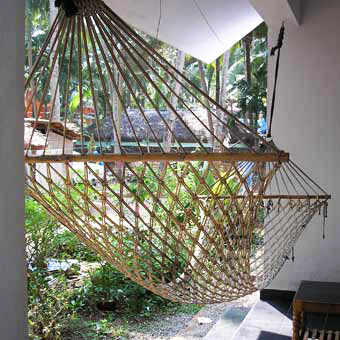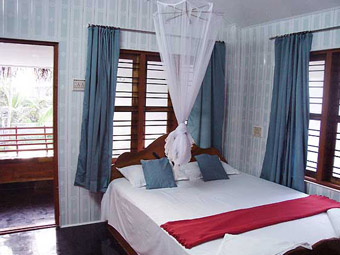 The bedrooms
Each room has an ensuite bathroom - with shower, toilet, hygiene faucet and basin – and its own balcony where you can sit and read or watch the world go by or just lie peacefully in a hammock suspended between two pillars .
FREE wi-fi in all rooms.
White sheets cover the double beds in each of the bedrooms and a blanket is provided because it can get a little chilly sometimes in the early hours of the morning. (Twin beds are available downstairs).
Complimentary soap and one toilet roll are offered to guests on arrival.

There are fans in every room and air conditioning is available in a couple of the downstairs bedrooms. There are fitted mosquito nets in every room as mosquitoes can be a little irritating at night time - although there is no necessity to take anti-malarial pills but mosquito repellant is recommended for the evenings in Varkala.